What are real martial arts?
In the words of Bruce Lee : Boards don't hit back.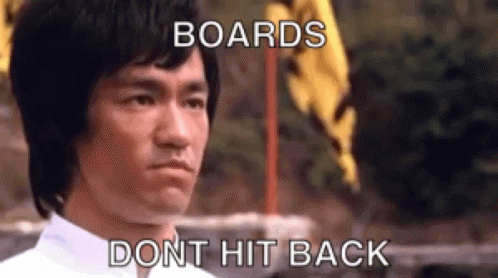 Unless maybe you are these guys:
What are real Martial arts?
If you duckduckgo search for fake martial arts instructors, you will find that a lot of real martial arts styles will get mixed in with the fake stuff because they look funny to onlookers.
A good example is Master Guy Savelli. (This is the martial artist that Joe Rogan was laughing at. )Is he ligit? Who knows. He Certainly is the laughing stock of the internet. It says in The Men who stare at Goats, that he could kill a goat just by thinking about it. Sure has the US military convinced. He may or may not know some crazy cool stuff:
Here is his triangle of death:
What are real martial arts?
In real martial arts there are no pads, no contests, no bowing, no belts, and no ego. In real martial arts the ground is hard, the sticks hit, and that gun might be actually loaded. Many people mistakenly think that if a martial art can hold up to MMA then it must be legitimate. But there is an error in thinking here, in MMA there are still refs, they wear gloves and there is a time limit and bell. The winner in MMA is many times the one who can take the most hits and can either out grapple or out punch the other guy.
In survival martial art, you need to train on all kinds of surfaces, in the street, on the stairs and for systema practitioners in an environment that mirrors reality. Any reality based martial systems will do this.
Ground meet body – body ground:
I've been able to dig up some archival footage of real Russian Special forces training. They make the ground a play-ground. (More on that later with homo ludens)
Every Day Ready
Can you fight in a suit and a tie? Can you disarm a gun using biomechanics? Do you know actual vital points on the body? (eyes, groin, side of neck, etc)
A real survival situation doesn't care if you are walking back from work, with your girlfriend, or if you have to defend yourself from an armed opponent.
Vinogradov S.S. demonstrates:
Disclaimer: These techniques are deadly and real. This is for demonstration purposes only – Knights of the Temple does not accept any liability if you use these techniques in real life.